First, karma:
Daily, I strive to be a better person than I was the day before, while somehow still remaining myself.  I have long patience–a skill that I've worked on for years.  Still, there are times where the bad news or bad deeds just keep piling on top of my chest like a load of bricks.
I don't treat myself as a victim, though I still acknowledge when my bad fortune is due to the work of others.  (And I acknowledge also when bad fortune is my own fault, or is owed to me.)
But every now and then, I'll hear a piece of news that will have me paaaaa-haaaaa like Angela Rye and allow me to thank the universe for the opportunity to witness the serving of justice.
So in that shady vein, here are shady gifs: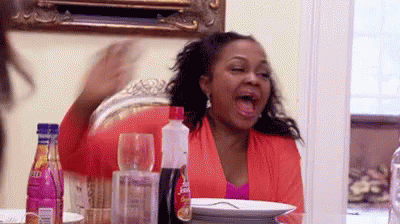 ---
Anyway…
After a tough few days from a mental health standpoint, I found myself trying to catalog all of the story ideas I've had over the years.  I have about 24.  I'm sure many will not see the light of day in their current formats, and I am also sure that there are many more stories in me.
I just found it interesting how often I will write down ideas–rather fully fleshed out ideas–and then put them away for a rainy day.
Another thing I found interesting was a few of my story ideas were for serials.  At some point, I intended to publish some things online, in the spirit of As the Sands Burn, a popular, albeit extremely flawed online "soap opera" about Black Greek life.
I am glad that I waited, though.  I need my serials to earn income.  At one point, I was happy to give work away as a means of promoting myself and my print novels.  However, now that I have a better handle on how ebooks work, as well as strong examples of serialized fiction through history, I feel much better positioned to release, say, a six part ebook series of 50 pages each, culminating in a print novel for those who need/like the paper.
That's nothing I'm working on right this second, but I'm glad I have a better pathway toward those releases.
At any rate, I hope the writers among you took some time on this long weekend for self-care, and that those of you who wanted to get the chance to do community service today.