"You all know I'm not much for words. I hate public speaking. I panic when I think about our probate show—if we're still having one, that is. But I want everyone in this room to know a few things.
"First, I have wanted to be a Beta since I was twelve years old. The only teacher I had in middle school who gave a damn about me was a Beta. He was young, fresh out of college and determined to save young black boys in Shaker Heights. He taught English all three years I was there, and he was so successful that they just kept looping him up with the classes.
"Because of him, I knew what to expect out of the process. I knew it wouldn't be easy. So I stood there and I took it. I took the verbal shit with no problem. I knew it was a game and I could take it. And I took the physical shit, too. I knew that just because I took it didn't mean I had to be that kind of brother if I crossed.
"But now I see there is no end to it. No matter what, I'm going to do the same things that were done to me. I survived, so why not, right? It's just the way things are, right?
"I don't think so. My teacher, Mr. Nelson, taught me better than that. I know that much of what we were going through was wrong and didn't make any sense. We weren't getting to know you all like we should—hell, half the things we were learning in set were neither accurate nor universal. What's the point of learning 'Excuses' when every chapter does it differently? What's the purpose behind these challenges if they are specific to Sigma chapter? It's like I'm not even pledging Mr. Nelson's fraternity at all."
–Rick Brown, Epiphany
***
According to Phi Beta Sigma Fraternity, Inc. and Zeta Phi Beta Sorority, Inc., yesterday (September 6, 2012) was the first annual National Anti-Hazing Awareness Day.  "On National Anti-Hazing Day," the Sigmas said, "Sigma chapters, Black Greek-lettered organizations and organizations all over are encouraged to host sensitivity training workshops on campuses using the newly developed anti-hazing sensitivity training curriculum material."
It seems as though the Sigmas have created what they consider to be cutting edge, trailblazing materials to help stop hazing.  They can be found here.   Joining their constitutionally bound brothers, the Zetas came up with Finer Women Don't Haze.
In press releases posted on each organization's respective websites, the day was conceived by a coalition of organizations including Sigma Frater Rev. Al Sharpton's National Action Network.  Curiously, the National Action Network did not seem to post anything on their website or facebook page commemorating this day.
Most Black Greek Letter Organizations have been ardently opposed to brutality against their prospective members from the earliest days of their existence.   Indeed, the 1990s brought in a new era known to most as "MIP" or Membership Intake Process.  MIP among most Greeks outside of the chapter room is a four-letter word, while the word "pledge" remains a slur among the party faithful.
Books have been written about hazing among people of color: Black Haze by Ricky Jones, and of course Lazarus, Covenant, and Epiphany by yours truly.  Obviously, I suggest that you buy them all.
Anyway, I'm just going to put it on out there:  National Anti-Hazing Awareness Day was an abject failure.
I did a search of my facebook friends (as you can imagine, many are Greek), and just two Zetas posted about Anti-Hazing Awareness Day.  No Sigmas on my friends list helped make this effort viral.  No other NPHC organization participated nationally in this event, which may explain why none of my Pan-Hellenic brothers or sisters posted anything.
But that's not why National Anti-Hazing Awareness Day failed.
It didn't fail because the coalition's national theme is the utterly unbrandable "LET'S NOT BEAT THE LIFE OUT OF A BEAUTIFUL LEGACY."  Nor did it fail because of the questionable administrative support that each effort receives outside of the national elected officers who volunteered to lead the effort.  (And let's face it, if you are on the national board of a BGLO, you better be about the business of governance, not the administration of a flimsy advocacy effort.)
No, National Anti-Hazing Awareness Day failed because it misses what needs to be the true target of any effort against hazing:
Middle school students.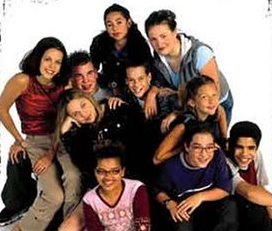 Why middle school?  Because this is an age where many students first experience more ritualized bullying than what they may have experienced in elementary school.  It also may be the first time that young people begin to think of college as a very real opportunity for their futures.
I totally made that up.  But I still believe it.  I am not a social scientist, so I need for the scholars out there to really do research into this.  Or if you've done the research already, consider submitting your findings to "Bullying and Hazing: An Interdisciplinary Journal." Email Hank Nuwer at hnuwer@franklincollege.edu for details.
In order for National Anti-Hazing Awareness Day to have been a success, it needs to look at changing the culture of hazing over a period of time by investing in middle school students, high school students, and the college brothers and sisters.
First, every NPHC organization needs to engage children and families as they navigate their middle school years.  Yes, I know, most BGLOs already have mentoring programs in middle schools.  Well you know what?  Do more.  And do them better.
This article at the National Education Association's website, written by Peter Lorain, states that "Middle school students are concerned about values, right and wrong, and the behavior and unfair treatment of others. Classroom and school activities should promote this emerging social awareness and concern."
So, Greek teachers, why not encourage your students to learn about hazing and why it is wrong?  Middle schoolers are smart.  Many will immediately make the connection between bullying and hazing and they will wonder why college students make even dumber mistakes than the bullies in middle school.  And we know that middle school students are already oversaturated with messages about bullying in the first place, so let's step it up a notch.
NPHC organizations themselves should develop a hazing prevention lesson for the middle school level.  And I don't mean just for the kids who opted to be in the special programs of our organizations like Guide Right, GEMS, or a beautillion.  I mean really make honest attempts to present a hazing prevention lesson to every middle schooler in your city or town.  It can be done.
By the time these students reach high school, the problem of hazing will already be in the back of their heads.  Therefore, the next thing NPHC organizations must do to stop hazing is for the graduate NPHC chapters in every city and town to present a workshop for graduating seniors and their parents about what to expect when they go to college when it comes to fraternities and sororities.  The consequences of hazing need to be reiterated to them.  Their parents – many of whom will undoubtedly be inactive fraternity and sorority members themselves – will also need a refresher on what is currently allowed and what is not.  How many stories have we heard about the dad who was insistent that his son be made "the right way" only to be horrified that being "made right" now resembles something a lot more like torture at Guantanamo Bay than the pledging scenes we know from School Daze?
Teenagers leaving home for the first time need to know that they don't have to submit to hazing. The "old school" Greeks back home will respect them more if they refuse to be hazed.  This needs to be said and it needs to be meant.
By the time the student has reached college, NPHC organizations have invested in them from sixth grade to twelfth grade, teaching them about hazing in middle school as a social studies project, welcoming them into their various mentoring programs to teach them positive values, and giving them the facts about hazing as they leave high school.  By this time, we should be invested enough to trust that they will refuse hazing.  Attention then turns to how a chapter can learn activities which are alternatives to hazing.
But first, organizations need to know what exactly is happening on college campuses today.  They need to know precisely what people think constitutes a pledge process these days.  We cannot afford to wait until after the most brutal hazing occurs in order to study it.  We need to know the steps which led to it.  Therefore, Black Greek Letter Organizations must offer full amnesty to those members who step forward in an effort to change the hazing cultures in their chapters.
Yes, I am suggesting that hazers out themselves.  And yes, I am suggesting that NPHC organizations forgive them and let it go, so long as everyone is committed to moving forward.   Our organizations are so focused on doling out the consequences of hazing that the cloak of discretion now obscures even the smallest of warning signs.
Just as bullies are often stereotyped as kids from broken homes with self-esteem issues, "hazing chapters" often seen as lazy, thuggish, ne'er-do-wells.   In all actuality, bullies are often quite smart, articulate, and charismatic – that's how they get away with it at school all the time.  Knowing this, I'd bet good money that many chapters that have been busted for hazing have won national awards and campus awards and have more than a few members who have been leaders on campus.  Just as we don't want hazers to "beat the life out of a beautiful legacy" we want to reform and rehabilitate these otherwise good and decent campus leaders who have gotten caught up in a culture they didn't create and have never been given a way out from.
Yes, let the hazers have a semester when they can come to safe spaces with their chapter advisors, grad chapter presidents, task force members – whoever – so that they can put it out in the open and ask for solutions.  Most hazers know what they're engaging in isn't the right way, but they don't know how to change the culture of their chapter.
We already know the consequences of hazing.   With apologies to True Blood, we all know that hazing is a one way ticket to The True Death – for your own membership and for your chapter's charter.  We get it.  Hazing is bad.  It can cost you your letters.  In some states, it can cost you your professional license and your freedom.
But let's focus on the brotherhood and the sisterhood by allowing those who want to change the opportunity to do so with a helping hand.  Let's help our own members understand that they have already been seasoned to be hazers because they survived middle school and high school bullying, but that they can break this cycle if they want to.
Let's say farewell to these puffed up national initiatives and focus on the fortification of our own communities, starting with the youth and the re-humanization of our college brothers and sisters.  They are our legacy.  Just as we attempt to protect adults from abuse at the hands of other adults, we have to put energy into giving young people the tools they need to make the correct decisions in the first place.